Glorious Goodwood – July 2014
Edie Campbell in race to reclaim trophy at Glorious Goodwood
Edie Campbell, the Burberry model, will be entering the ladies' charity race at Glorious Goodwood which she previously won in 2011
Edie Campbell won the inaugural ladies' charity race at Glorious Goodwood in 2011. Now she wants to reclaim the trophy.
"I am risking life and limb," the 23-year-old Burberry model says ahead of the race later this month. Edie, who is being courted by Otis Ferry, is hoping to raise £10,000 in sponsorship for The Reading Agency and Best Beginnings. She has two horses, Dolly and Armani, and has toyed with the idea of turning pro. "I'd like to work with horses but it doesn't pay very well," she concedes.
– Telegraph, 4 July 2014
---
FIRST LOOK: Sarah Burton and Vivienne Westwood unveil stylish jockey designs for Glorious Goodwood
Designers have created jockey outfits for Glorious Goodwood Magnolia Cup
Edie Campbell is 'leading lady' of the event and will compete
There's a supermodel racing in the Glorious Goodwood Magnolia Cup so it only seems fitting that the jockey outfits are hand crafted by high-end designers.
This year, the celebrity charity race has called on renowned fashion designers Sarah Burton and Vivienne Westwood to design riding gear for the cup, which will see model Edie Campbell riding for gold.
Speaking about the cup, sponsored by jewellery designer Theo Fennell, Edie said: 'I am very excited to have taken on the role of leading lady — I'm hoping that we can raise even more money than in previous years — hopefully I'll still be the leading lady at the finish line too!
'I have yet to start my training regime but I can't wait to get into full jockey mode, lots of riding out-of-control racehorses at 7am, surrounded by tiny men on big horses..'
– Daily Mail Online, 22 July 2014
---
Edie Campbell on naked catwalks: 'You become very objective about your body'
The punk-haired model Edie Campbell knows all about facing fear — whether riding a horse in aid of charity at Glorious Goodwood or walking a catwalk show almost naked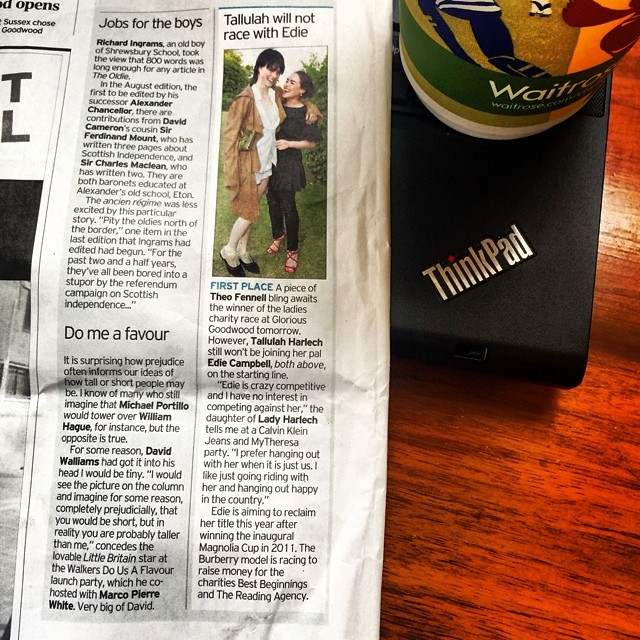 ---
Categories:Press