British Vogue – September 2017
Photography: Mario Testino
Styling: Lucinda Chambers
Hair: Sam McKnight
Makeup: Val Garland
Nails: Lorraine Griffin
Models: Edie Campbell, Jean Campbell, Kate Moss, Nora Attal, Stella Tennant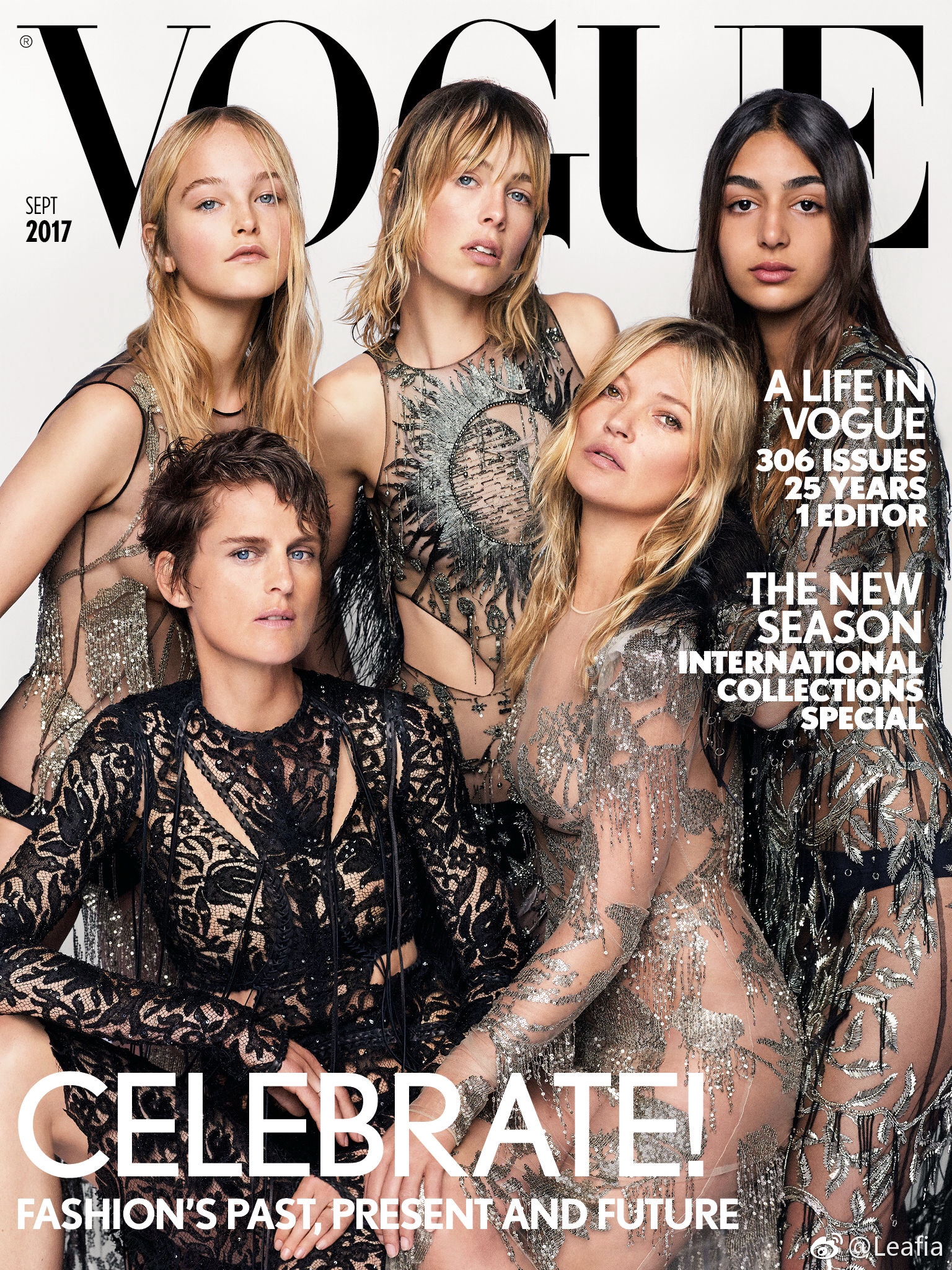 Meet Our September Cover Stars
THE September 2017 issue of British Vogue is revealed for the first time this morning, fronted by Nora Attal, Edie Campbell, Jean Campbell, Kate Moss and Stella Tennant. Photographed by Mario Testino, and styled by Lucinda Chambers, the joint cover represents the past, present and future of modelling.
The new issue marks the debut British Vogue cover for Moroccan-born Attal, who already has walked for Prada, Loewe, Céline and Burberry, and Jean Campbell, the ethereal British model who counts fellow cover girl Stella Tennant and photographer Tim Walker as mentors. 26-year-old model and equestrian champion Edie Campbell was first photographed for British Vogue in August 2006, and has been a regular face ever since.
Kate Moss and Stella Tennant however, are Vogue veterans: Moss made her first appearance on the cover British Vogue as in 1993, photographed by Corinne Day, going on to appear a further 31 timesthroughout the Nineties and through to the present; and Tennant boasts four covers under her belt, including the January 2002 cover which she starred in alongside Kate Moss, Erin O'Connor, Naomi Campbell, Rosemary Ferguson, Cecilia Chancellor, Jacquetta Wheeler, Liberty Ross, Elizabeth Jagger and Jade Parfitt.
The September issue marks the 306th and final edition to be edited by Alexandra Shulman, whom left the title after 25 years at the helm earlier this year. Incoming editor-in-chief Edward Enninful's first issue will be the December 2017 edition.
– British Vogue, 2 August 2017
FMA Winner: Mario Testino, Creative Director of the Year
You shot some fabulous models for the September cover of British Vogue. How did that come together?
I worked with Alex [Shulman] for 25 years, and she wanted to document what she had done and where her eye was still going. I once did a story on supermodels, and I brought in Edie Campbell. She was 15 or 16 at the time, and everyone wanted to know why I wanted her in it. I said, "She will be the next one!" I like that idea of putting these girls together, because they are part of the life of the magazine and my life. Stella Tennant married my assistant. I'm godfather to her daughter. Kate Moss has been my muse and my partner. We've shared so much over the past 25 years. Edie's mother is a friend of mine. Jean Campbell's parents are my friends, too. Nora Attal is the new find! I quite like this idea of these girls who are intertwined in our lives.
– Daily Front Row, 15 September 2017
---
Categories:Magazines